We've shared our tried-tested-and-traversed journey through Africa with Part One of our safari angles series, but now it's time to leave the hot air balloons to the skies and discover life on the ground, with hiking boots and horseback safaris, reminiscent of bygone eras. We ask that you open your eyes and hearts to what awaits in our most spectacular Africa.
Horseback Safari in Northern Tanzania
Discover a literal and figurative interpretation of 'off the beaten track' through a horseback safari in Northern Tanzania with a qualified and professionally-trained guide. A safari like this takes you on routes that venture deep into the heart of the bush untouched by life as we know it. Here you can ride alongside the biggest migration on earth, or behold the sights of millions of flamingoes at Lake Natron, or perhaps a ride alongside the biggest mammals is more to your liking? A horseback safari in this part of the world caters for everyone, from novice to experienced riders, and the journey itself will have you feeling back in touch with nature.
Fly Camping in Northern Kenya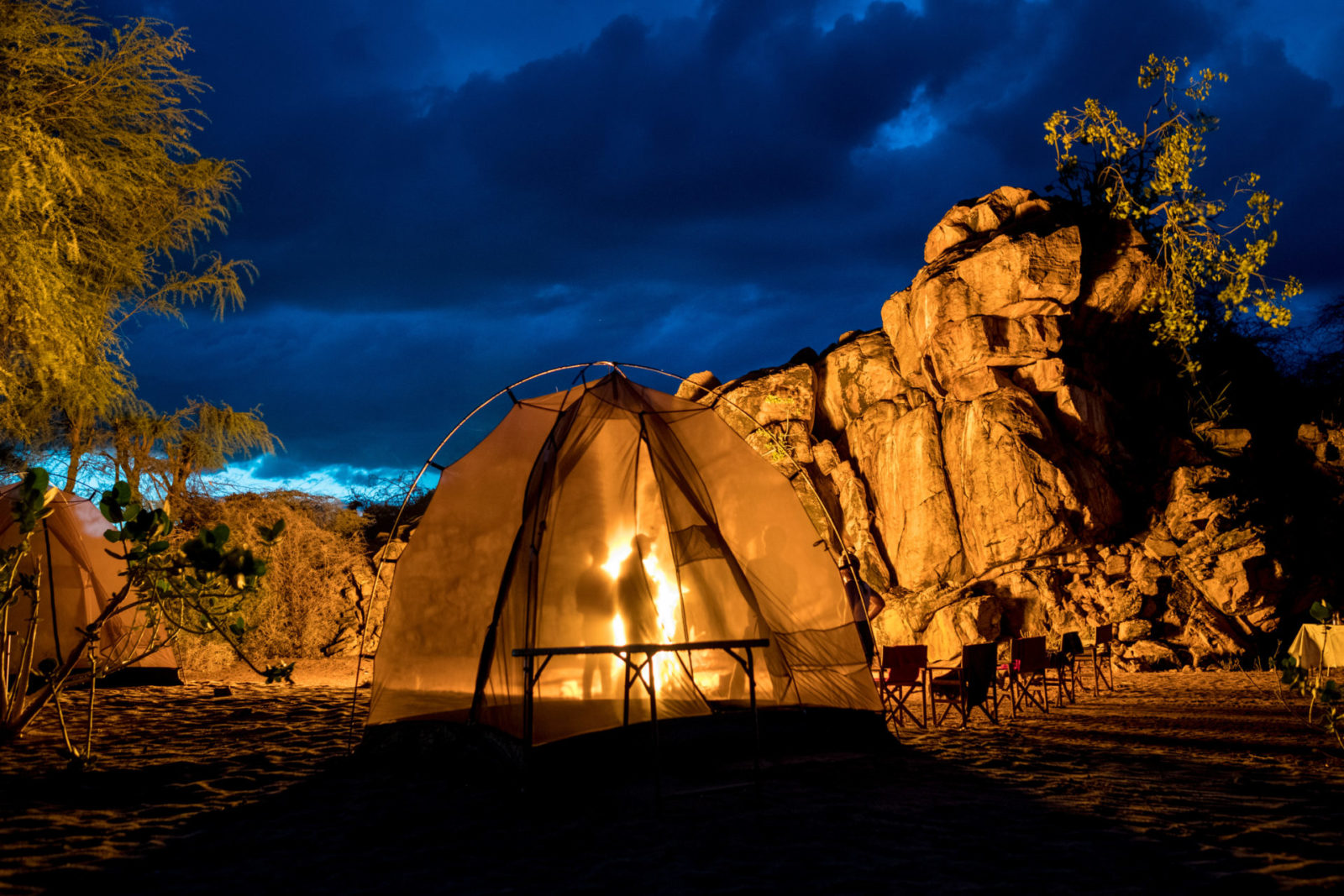 Are you keen for a night under the stars? Then a fly camping experience in Northern Kenya is the perfect addition to your safari. This is one of our most popular safari add-ons for the adventurous, as it includes a fly camping experience with Sasaab Camp inside the Samburu wilderness. Here guests sleep out under the stars under a mosquito dome tent, complete with comfy mattresses and bed linen, bathroom and washing facilities. At night a campfire is paired with an alfresco dinner under the stars, and your early morning alarm are the calls of birds and the rising sun. Idyllic, don't you think?
Multi-day Walking Safari in Tanzania
Epitomizing the Africa of untouched lands where the wildlife reigns, Ruaha National Park is one of Tanzania's best-kept secrets, far removed from the busy Northern Circuits and thundering Great Migration. This is a place for seasoned safari-goers looking for a more grounded experience, where the luxuries lie in the wild flora and fauna appreciated best on a multi-day walking safari. Exceptional guides take you through Ruaha's craggy landscape, following routes where our ancestors once set foot and where the wild has always ruled. A safari like this ensures that you're on level footing with the animals, and the thrill of not knowing what's around the next corner adds to the excitement.
Chimpanzee Habituation on Rubondo Island, Tanzania
Ever heard of Rubondo Island? It's Africa's largest island national park, surrounded by pristinely conserved tropical forests, home to chimpanzees, elephants, giraffes and an impressive 300 species of birds. However, this isn't just a birder's paradise. It's a place for those in search of a chimpanzee habituation experience in Tanzania. Guests can experience Professor Bernhard Grzimek's Noah's Ark Project, which brought endangered species to Rubondo between 1966-1969 – including 16 West African chimpanzees. A guided trek here gives guests a high chance of spotting chimpanzees (92% chance to be exact, based on 2021's stats). Even more impressive is that most chimpanzees can be viewed from as close as 10 meters, with many sightings lasting 30 minutes or more.
A Different Take on Safari
With a specialization in tailor-made safaris and itineraries, we offer a fresh take on 'safari' because we've experienced almost all of them. We're also constantly looking for new ways to 'do' safari. So if your dreams include something we haven't yet mentioned in Part One or Two of our safari angles blogs, rest assured that we've most probably experienced it, but just not had time to write about it yet as we like to keep our team small to offer you a bespoke service.
Reach out to us with any questions you may have, or take your time discovering other destinations we arrange luxurious safaris to.